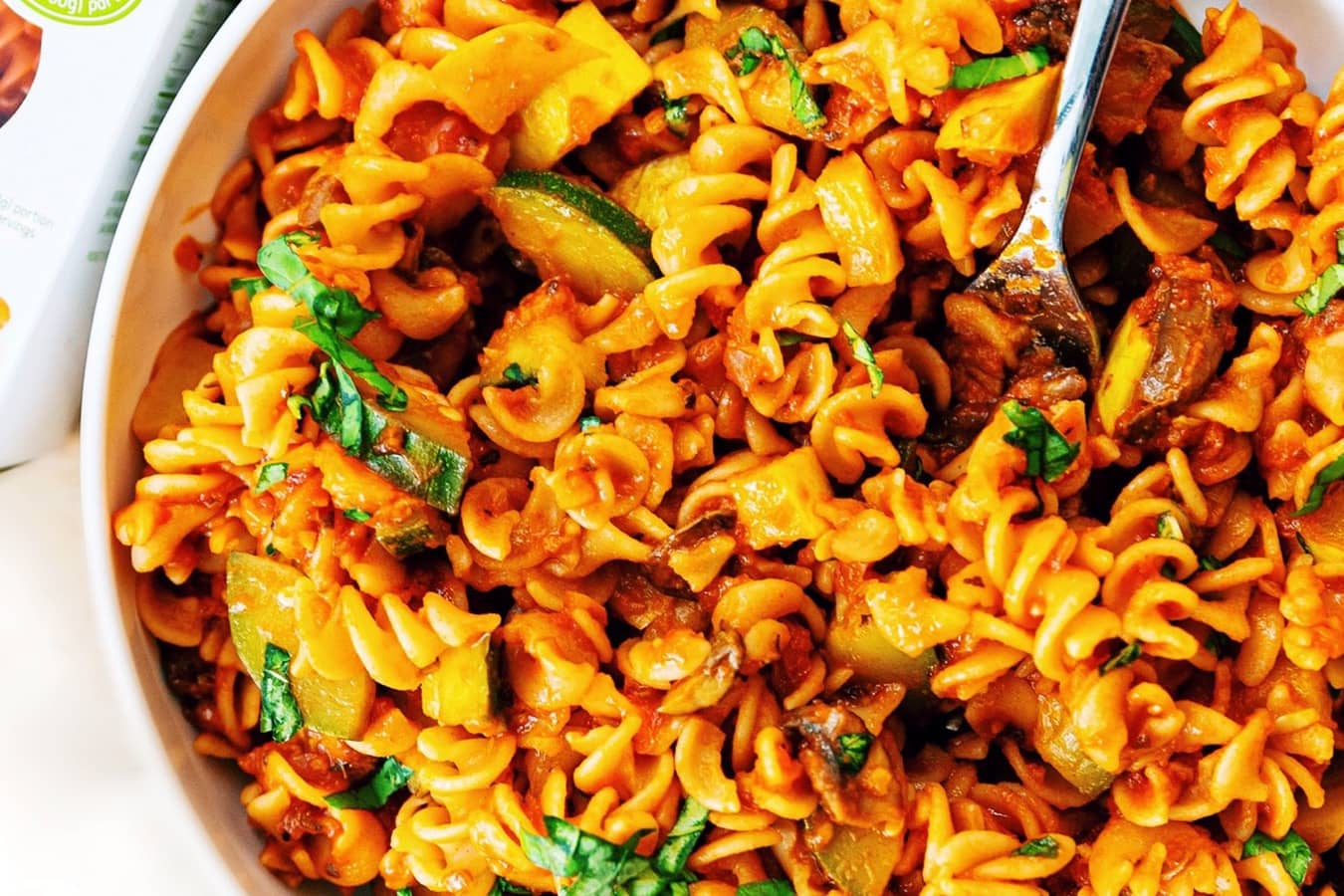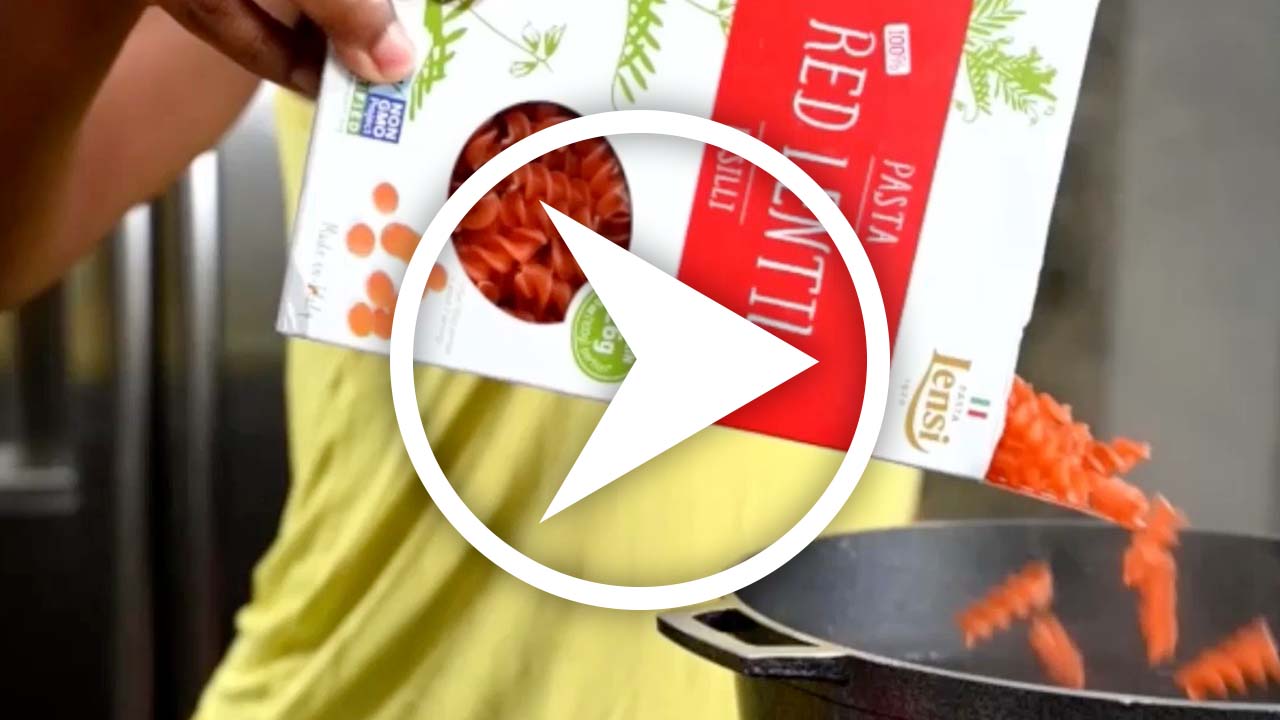 Ingredients
10 oz Box Pasta Lensi Red Lentil Fusilli
2 tbsp Olive Oil
1 Yellow onion, diced
4 Cloves garlic, minced
2 tbsp Dried oregano
6 oz Can tomato paste
1 tsp Salt (or add to taste)
¼ cup Boiled pasta water (or more to thin out tomato paste)
1 Zucchini, chopped small
1 Squash, chopped small
10 oz Baby bella or cremini mushrooms, sliced
Garnish with fresh basil, finely minced (optional)
Vegetable Herb Sauce With Red Lentil Pasta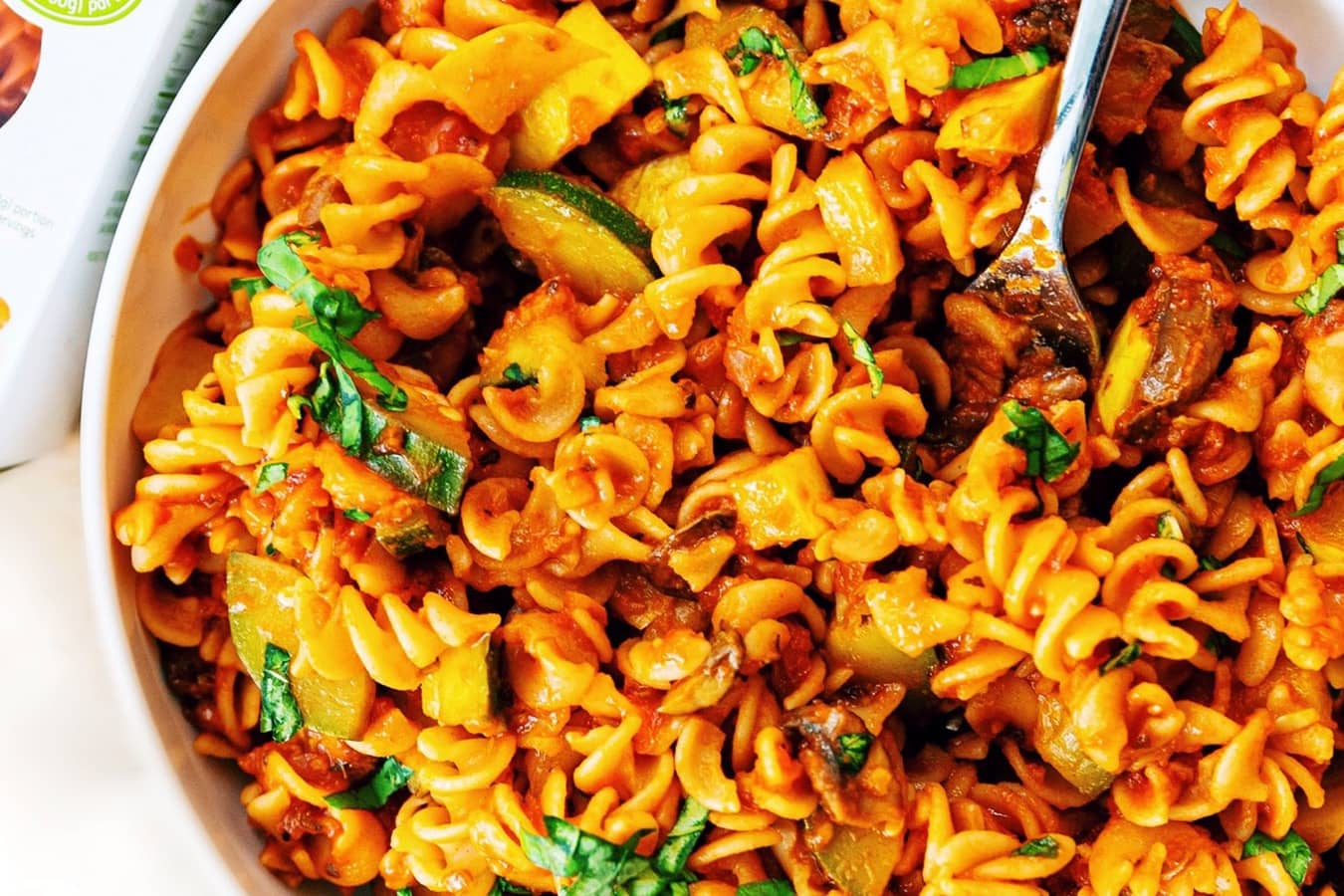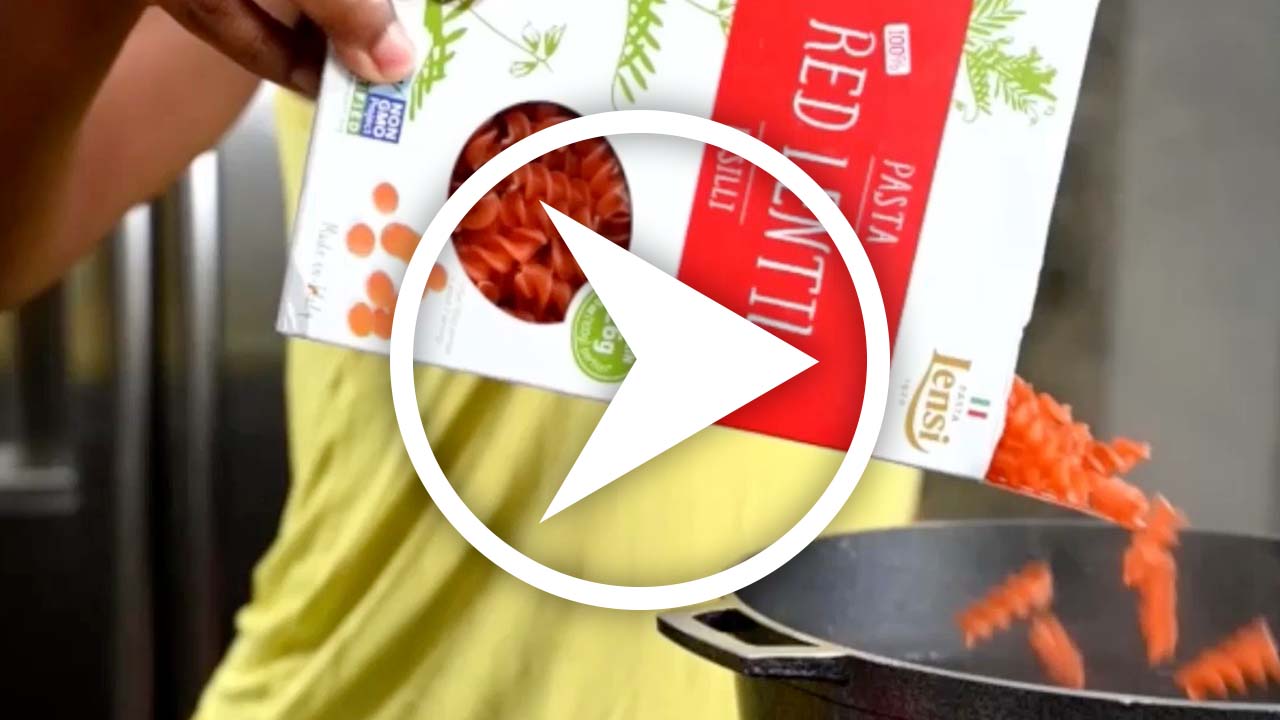 If you are looking to add more vegetables into your diet, this recipe is about to secure a spot in your weekly meal rotation. The secret to the bold flavors and irresistible aroma that the tomato sauce releases as it cooks is using a variety of vegetables along with a hefty dose of herbs and seasonings. Whether you decide to go with fresh or dried herbs, oregano and basil are two key ingredients for this pasta dish.
For a chunkier sauce, we recommend choosing vegetables that cook with different textures, but have similar cooking times. Combining different textures keeps meals more interesting and enjoyable – and this recipe proves that right! Enjoy Pasta Lensi Red Lentil Fusilli with zucchini, squash and baby bella or cremini mushrooms, or feel free to swap in any of your preferred veggies. Chopped broccoli, asparagus or spinach would be tasty additions to the tomato sauce.
Did you know Pasta Lensi is made from just using legumes or a blend of legume and vegetables? Discover more plant based, Gluten Free alternatives that are protein-packed in every 3.5oz portion (about 2 servings) by trying this recipe with other cuts like Lentil Pasta with Spinach and Basil.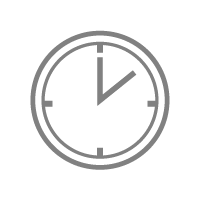 TOTAL TIME
30 MIN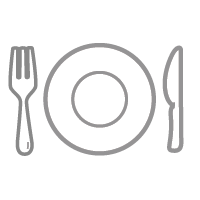 SERVINGS
SERVES 4
Ingredients
10 oz Box Pasta Lensi Red Lentil Fusilli
2 tbsp Olive Oil
1 Yellow onion, diced
4 Cloves garlic, minced
2 tbsp Dried oregano
6 oz Can tomato paste
1 tsp Salt (or add to taste)
¼ cup Boiled pasta water (or more to thin out tomato paste)
1 Zucchini, chopped small
1 Squash, chopped small
10 oz Baby bella or cremini mushrooms, sliced
Garnish with fresh basil, finely minced (optional)
Instructions
Cook the Pasta Lensi Red Lentil Fusilli in salted water for 6-8 minutes as indicated on package directions. Boil pasta to preferred texture, remove from heat, drain, and set aside.
While pasta is cooking, in a medium to large pot heat 2 tablespoons of oil over medium heat. Add the onion and garlic and sauté until soft, about 3-4 minutes.
Add salt and oregano to season the onions and cook for about 30-60 seconds. Pour in tomato paste and ½ cup of water from the boiling the pasta. Stir together and gently raise heat so that the sauce boils. If needed add more boiling water, but do so ¼ cup at a time.
Simmer the sauce in medium-low heat and add mushrooms, zucchini, and squash. Stir and cover pot for about 10-15 minutes allowing vegetables to soften. Use a fork to puncture the vegetables to gauge desired softness.
Pour the drained Pasta Lensi Red Lentil Fusilli into a large mixing bowl and then pour your vegetable herb sauce on top and mix until your Red Lentil Fusilli is coated. (Alternatively, instead of using a mixing bowl, you can pour your pasta directly into the pot with the vegetable and herb sauce). Garnish with minced basil leaves and enjoy! (Recipe provided courtesy of Peggy Exhume, WellnessWithPeggy.com)