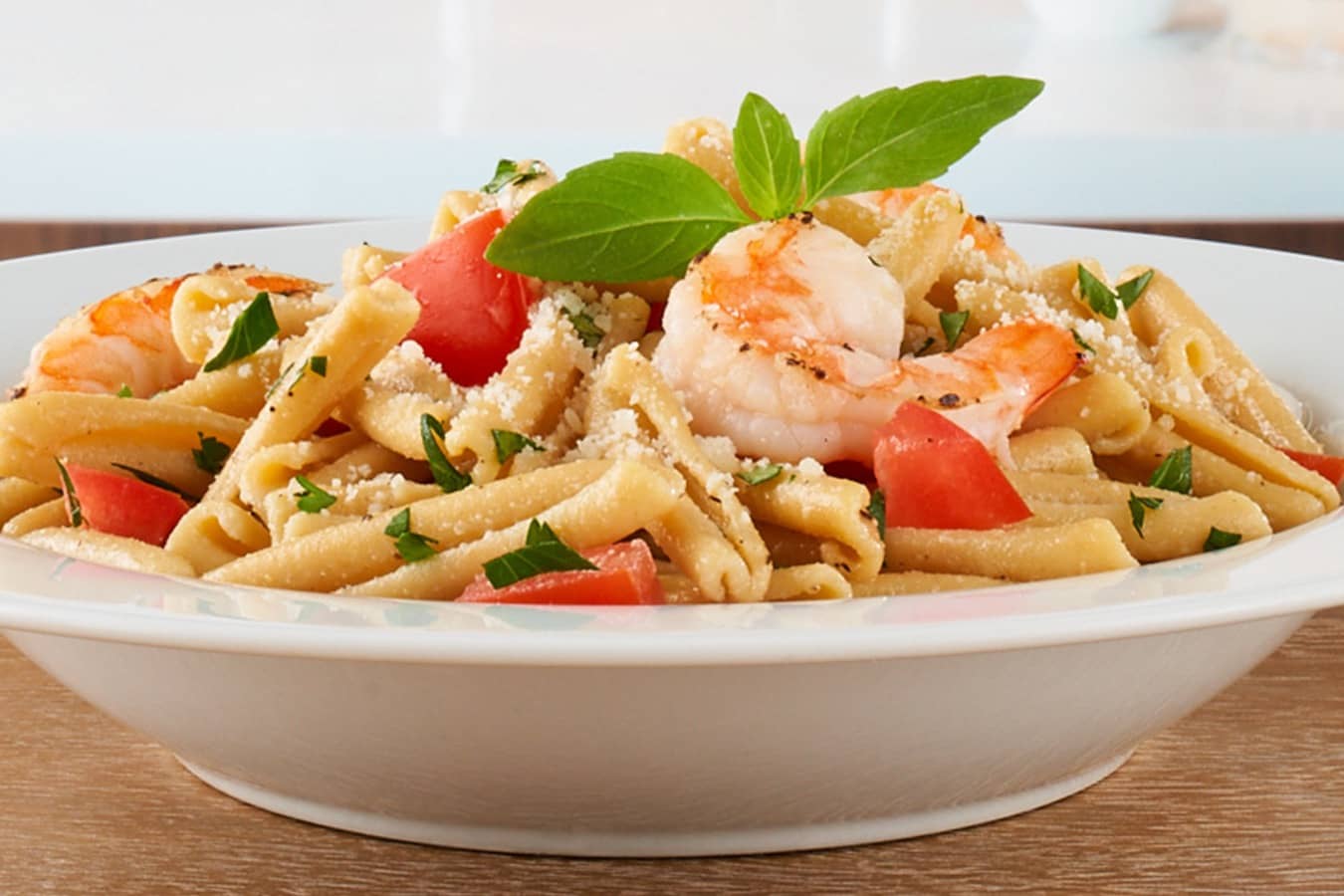 Ingredients
10 oz Box Pasta Lensi Chickpea Casarecce
6 tbsp Olive Oil
1 tbsp Garlic, minced
1 lb Medium Shrimp, peeled, tails off, deveined
1 cup Tomatoes, diced
½ cup Fresh Basil, chopped
2 tbsp Fresh Parsley, chopped
¼ cup Parmesan Cheese, grated
Shrimp & Herbs Chickpea Casarecce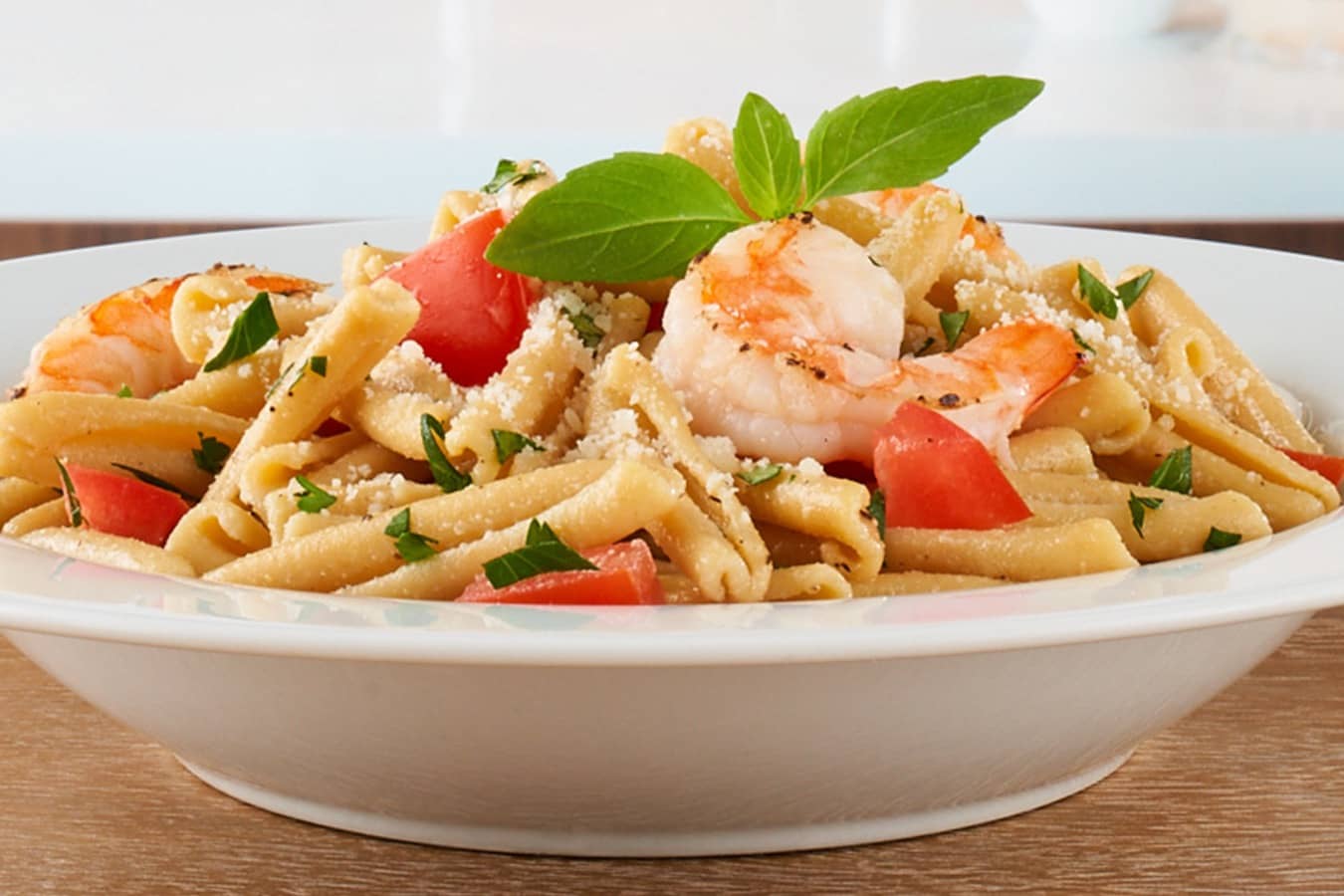 Are you a fan of seafood? Enjoy all your favorite flavors from the sea in this easy to make recipe with shrimp. Cooking with seafood can be intimidating at first, but there is no need to wait until your next dinner night out to enjoy a restaurant-style meal like this Shrimp & Herbs Chickpea Casarecce.
If using fresh shrimp feels a little too intimidating, use the cleaned and frozen variety. Plus, this cooking shortcut will help you save some time in the kitchen as there's no need to clean the seafood yourself. Life is complicated, so why not keep meals simple? Now possible with the help of Pasta Lensi! And, the best thing about these legume pastas is that they are made in Italy from simple quality ingredients.
Adding fresh basil and parsley when serving will boost your dish with an irresistible aroma and a delicious taste. Crush some dried spices on top of the pasta if you don't have the fresh variety on hand. Do you enjoy spicy flavors? Sprinkle some red pepper flakes on top for a kick.
If you loved this recipe, we recommend you also take a look at this Citrus Scented Pesto with Chickpea Casarecce.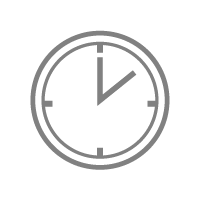 TOTAL TIME
20 MIN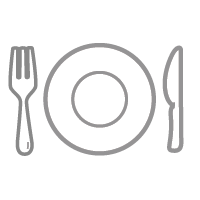 SERVINGS
SERVES 4
Ingredients
10 oz Box Pasta Lensi Chickpea Casarecce
6 tbsp Olive Oil
1 tbsp Garlic, minced
1 lb Medium Shrimp, peeled, tails off, deveined
1 cup Tomatoes, diced
½ cup Fresh Basil, chopped
2 tbsp Fresh Parsley, chopped
¼ cup Parmesan Cheese, grated
Instructions
In a large pot of salted, boiling water, cook Pasta Lensi Chickpea Casarecce for 8-10 minutes according to package instructions.
While pasta is cooking, in a large sauté pan, heat pan on medium flame, add oil when the pan is hot.
Add garlic and shrimp to the pan, and sauté for 2-3 minutes.
Add salt and pepper to taste.
Add cherry tomatoes, sautéing for 2 minutes more.
Add drained pasta to the sauté pan, stir until heated, bringing all ingredients together.
Remove from heat. Add basil, parsley and parmesan.
Add some red pepper flakes for a kick!