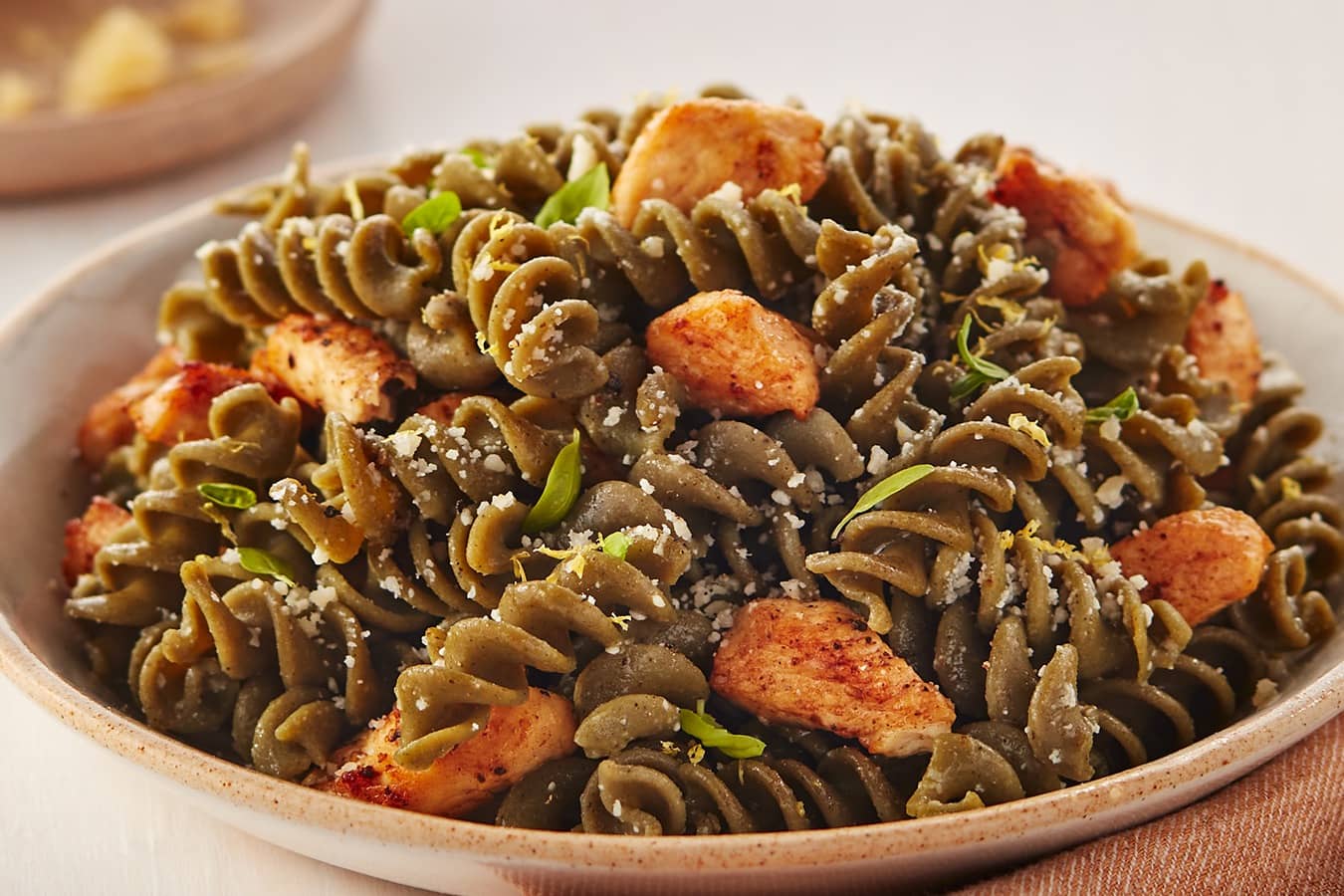 Ingredients
9 oz Box Pasta Lensi Lentil Pasta with Spinach and Basil
2 tbsp Olive Oil
1 lb Boneless, skinless chicken breasts, cut into thin strips
3 Cloves garlic, minced
⅓ cup Parmesan Cheese, grated
¼ cup Lemon Juice + zest of 1 lemon
Salt and pepper to taste
Lemon Basil Chicken Pasta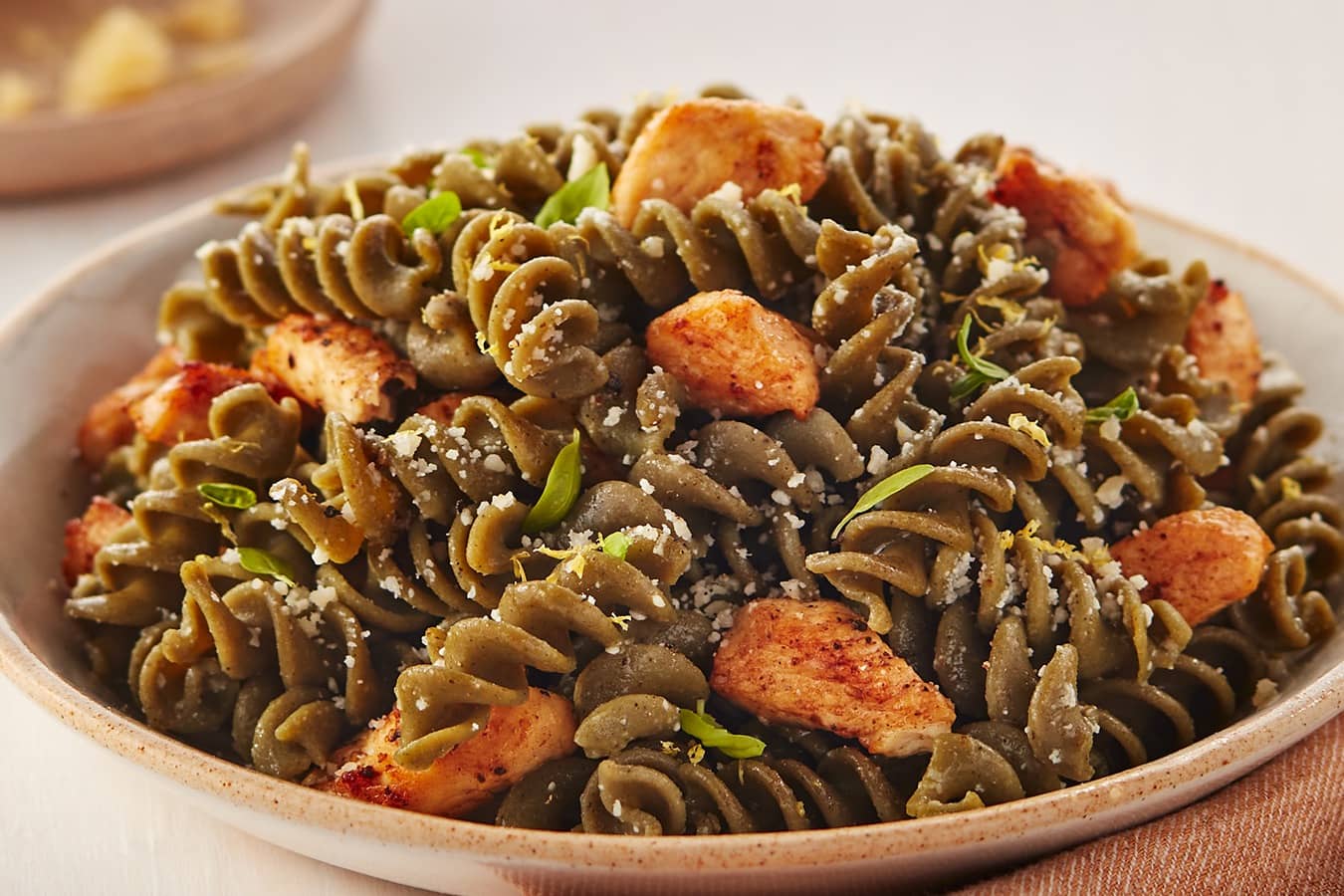 This chicken and pasta combo is made with simple ingredients for a flavorful and filling dish. Starting with a base of legume and vegetable pasta, chicken breasts, Parmesan cheese and pepper are tossed together with a splash of lemon juice. The best part about this Lemon Basil Chicken Pasta is that it is ready to enjoy in under 15 minutes, making it the perfect recipe for a speedy weeknight dinner.
If you want to keep it meat-free, simply omit the chicken or swap in other veggie friendly ingredients like mushrooms, asparagus, broccoli or spinach. Pasta Lensi is packed with 22 grams of plant based protein in every 3.5 oz portion (about 2 servings) so no need to worry about that extra protein punch! Adding more vegetables into your diet is now easier with delicious alternatives like this Rotini pasta made from lentils and boosted with spinach and basil.
Trust the quality of Pasta Lensi for Gluten Free options that are made in Italy, with simple quality ingredients for plant based goodness in every bite. Discover more of our lentil and veggie blends pasta with Beet and Ginger, or Pumpkin and Turmeric.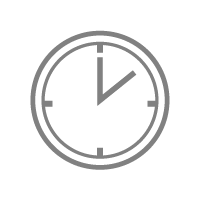 TOTAL TIME
15 MIN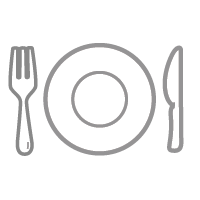 SERVINGS
SERVES 4
Ingredients
9 oz Box Pasta Lensi Lentil Pasta with Spinach and Basil
2 tbsp Olive Oil
1 lb Boneless, skinless chicken breasts, cut into thin strips
3 Cloves garlic, minced
⅓ cup Parmesan Cheese, grated
¼ cup Lemon Juice + zest of 1 lemon
Salt and pepper to taste
Instructions
Cook Pasta Lensi 5-7 minutes according to package directions. Drain and set aside.
Heat olive oil in a large skillet over medium-high heat. Add chicken strips and season with salt and pepper. Cook, stirring occasionally, until chicken is done. Add garlic and cook 30 seconds. Remove skillet from heat.
Toss pasta with cooked chicken mixture. Add lemon juice and lemon zest. Sprinkle with grated Parmesan.