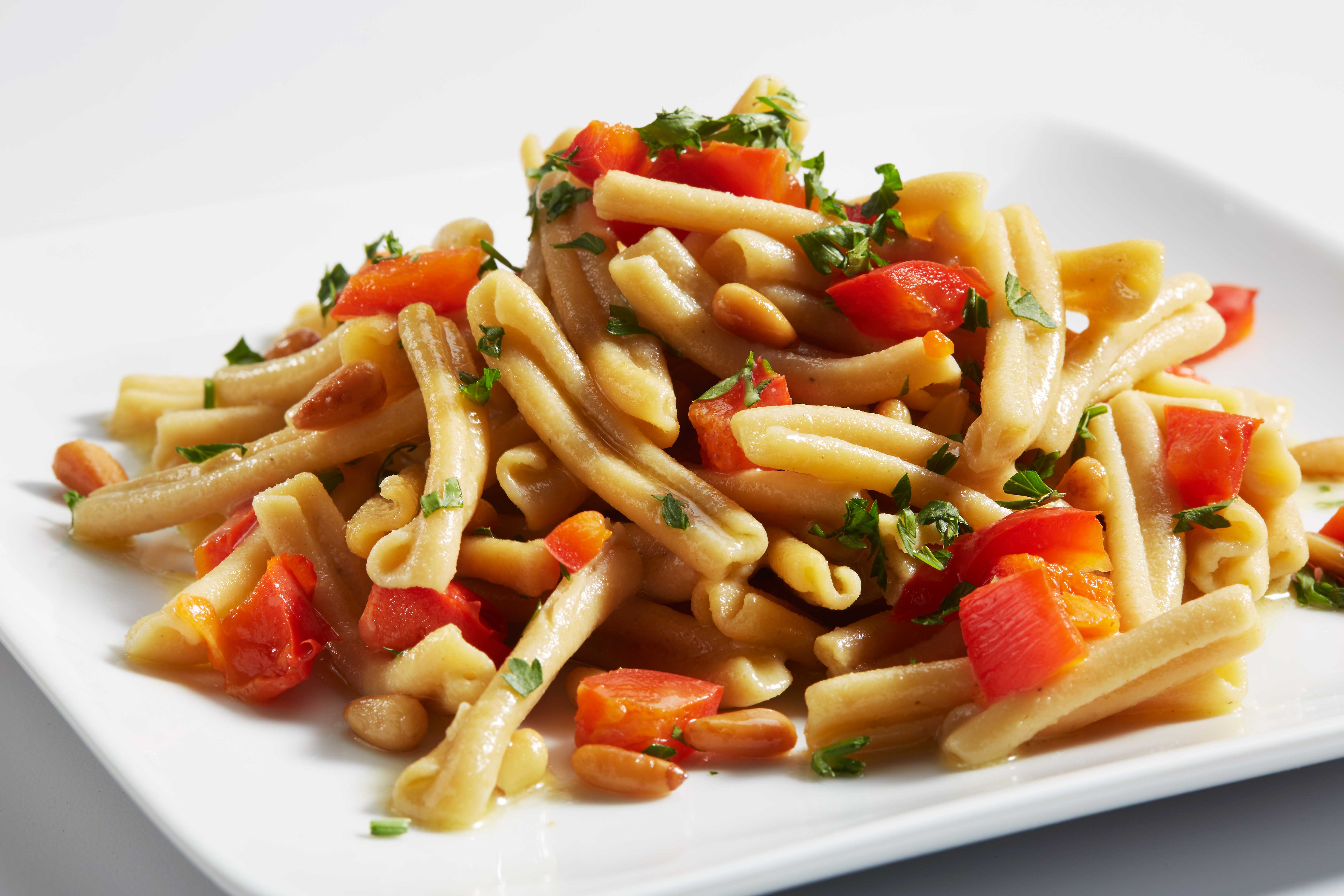 Ingredients
10 oz Box Pasta Lensi Chickpea Casarecce
2 tbsp Lemon, juiced
6 tbsp Olive Oil
1 tsp Salt
¼ tsp Black Pepper
⅛ tsp Cumin
½ tsp Sugar
5 tbsp +3/4 tsp Tahini
¾ cup Red Pepper, Roasted
1 tbsp +1 tsp Pine Nuts, toasted
2 tbsp Parsley, minced
Chickpea Hummus Salad with Tahini Dressing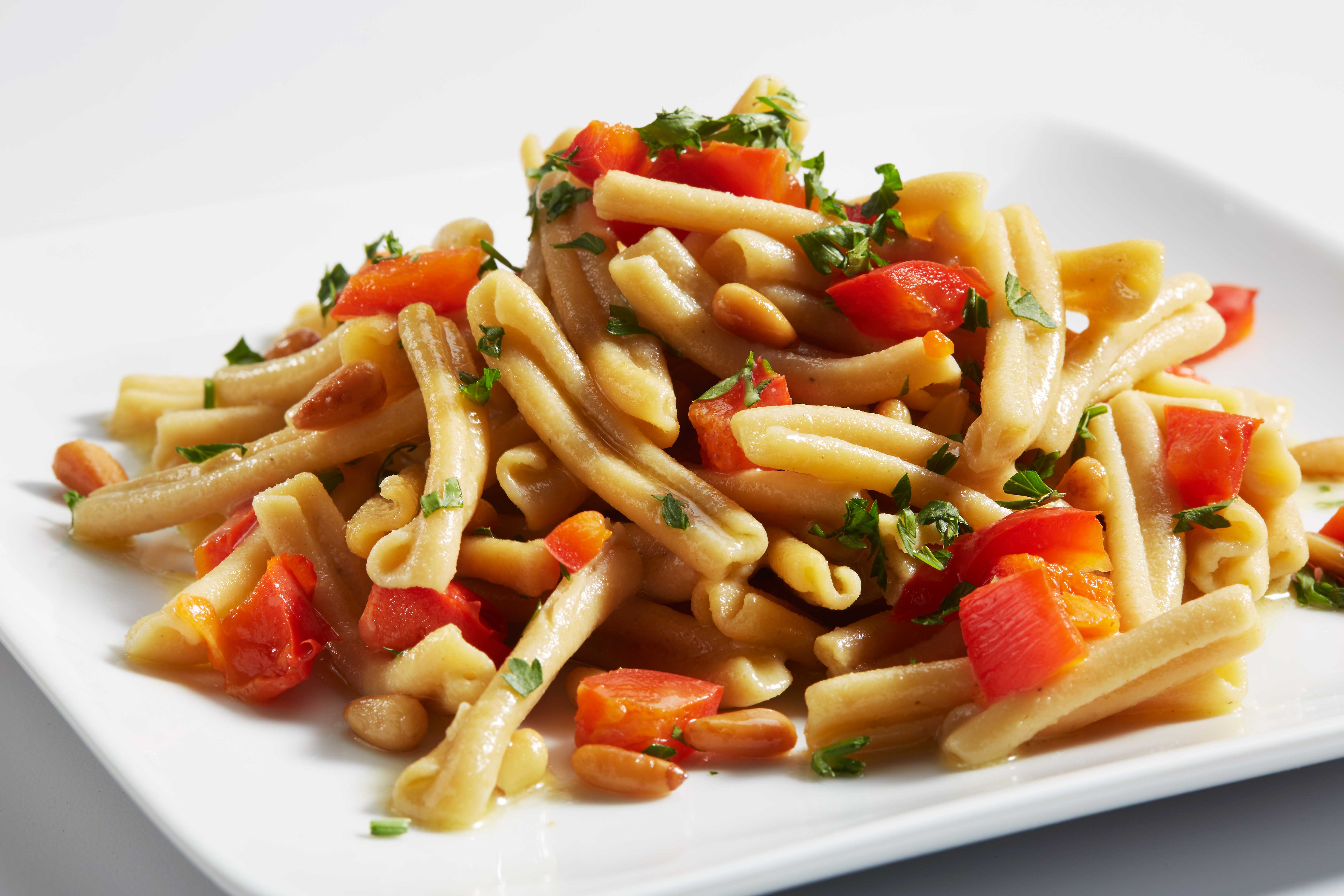 Mediterranean cuisine is filled with fresh ingredients, seasonings, herbs and spices with bold and irresistible flavors. Bring the taste of the Mediterranean to your home kitchen by whipping up a delicious vegetarian recipe. With the addition of Pasta Lensi Chickpea Casarecce, this flavorful pasta salad is packed with plant based proteins in every 3.5oz portion (about 2 servings). And, learn how to make your own homemade tahini dressing using lemon juice, olive oil and spices and drizzle it over your perfectly cooked legume pasta for a satisfying meal. Finish your dish with an extra layer of flavor and texture by garnishing with roasted peppers, crunchy pine nuts and fresh parsley.
Originating in Sicily, Casarecce is a traditional Italian cut resembling handmade pasta. Pasta Lensi brings all the plant based goodness to Italian Casarecce for a Gluten Free pasta that is made from chickpeas. The secret behind its delicious texture and taste is the simplicity and quality of the ingredients: chickpeas. Try it yourself in this delicious "hummus" salad or in other tasty recipes like this Citrus Scented Pesto Chickpea Casarecce.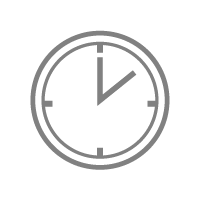 TOTAL TIME
15 MIN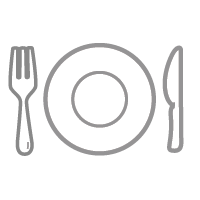 SERVINGS
SERVES 4
Ingredients
10 oz Box Pasta Lensi Chickpea Casarecce
2 tbsp Lemon, juiced
6 tbsp Olive Oil
1 tsp Salt
¼ tsp Black Pepper
⅛ tsp Cumin
½ tsp Sugar
5 tbsp +3/4 tsp Tahini
¾ cup Red Pepper, Roasted
1 tbsp +1 tsp Pine Nuts, toasted
2 tbsp Parsley, minced
Instructions
Bring 4 quarts of water to a boil and salt generously.
Mix lemon juice, olive oil, salt, black pepper, cumin, sugar, and Tahini in a bowl with a whisk.
Cook Pasta Lensi 8-10 minutes according to package directions. Drain and rinse with cold water.
Mix pasta with dressing in a bowl.
Garnish with toasted pine nuts, roasted peppers and parsley.
Serve cold or warm and enjoy!